What are Security Certificates?
Security Certificates are used by computers and the internet to ensure the specific website is safe to use. It's like the passport of the internet world, that verifies your website is what it says it is. Just like a passport, these certificates expire and need to be renewed, and in the case of SSL certificates, they need to be renewed at least once every two years. If you don't have a security certificate or you forget to renew your SSL certificate then visitors to your website could be greeted by the following screen (Parts of the image have been edited out to protect the company)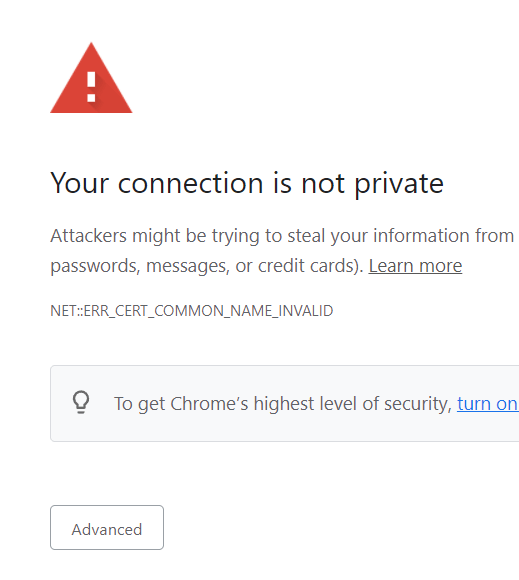 This is not quite the first impression that your business is trying to achieve, so read on to learn more about how to prevent this and the other benefits of having a security certificate.
Why Get a Security Certificate?
So aside from some visitors receiving a large warning screen and backing out from viewing your website, what are the other reasons to get a security certificate?
We've all heard of cyber security and horror stories about hackers and websites without security certificates are easier to hack into. Having a security certificate doesn't make them invulnerable, but it does help prevent certain types of attack. It also helps to protect against other unscrupulous companies or individuals attempting to copy your website to gain customer data by making it more difficult to spoof.
Gain a https (Hypertext Transfer Protocol Secure) Web Address
Without a security certificate you can't use the https web address. This isn't only detrimental for visitors to your website, it also impacts on your search engine rankings, as if your website isn't 100% trustworthy for a real visitor, it's the same for search engines. With Google actively working against you for your website rank, it's almost a no brainer to get a certificate… unless you don't want to be found?
https websites are more secure than ones without a security certificate because of the encryption of data. This is like a secret code between your website and the system connecting to this that only that specific connection can understand. This is vitally important for any business that handles data, has a contact form or takes payments. Businesses should be doing everything in their power to protect users from fraud and even the perception of having a secure website rather than an unsecure website, is going to entice more users to either send details through your platform or enter in their payment details.
If you go onto any reputable website that you use on a daily basis, they will almost certainly have a security certificate. This is now an expectation of a reputable business rather than a luxury. So if you're trying to build a solid brand name in the market while having a security certificate shouldn't make you stand out, not having one certainly will, and experienced users will be able to click in and check that this website is indeed the correct and official website for your company.
How can I tell if my website is secure?
Fortunately it's incredibly easy to tell if your website is secure or not. All you need to do is look in the top left hand corner of your browser.
Being a reputable company our website is secure as is detailed by the padlock next to our URL:

You can also click on the padlock and see the following: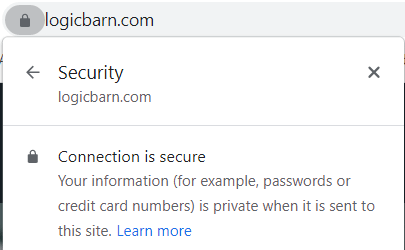 Unsecure websites on the other hand are shown as the following:

Again by clicking on the warning sign the user receives a message: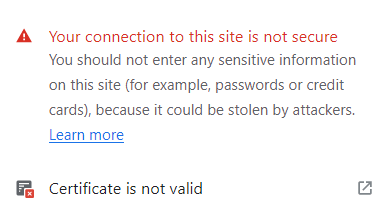 This is on the Google Chrome Browser, but Firefox, Microsoft Edge, Opera, Safari and any other browser that you choose to use will all have their own different indicators and way of working. Regardless of your browser of choice, it will always be shown as a negative if your website doesn't have a security certificate.
How Can I Get a Security Certificate and Protect my Website?
There are many different ways all over the internet that explain how to get a security certificate and any good website design agency should be able to help with this. It's also possible to do it without professional help and with your own research but it's useful to remember that not all types of security are the same, with some offering greater protection than others. Not having a security certificate is usually an indicator of bigger issues with the website and with this comes huge opportunities to improve your search engine optimisation and increase the number of target visitors to your website. For more website tips check out our blog on what makes tremendous web design. 
LogicBarn are experts in website design and cybersecurity so if you have any questions on your security certificate or are having any other website issues, give LogicBarn a call on 0303 223 0110 now.