Creating an attractive yet

high performing website.
Specialists in line markings, joint sealing services and infrastructure, KAD Civils are a nationwide, professional and well-respected name in the construction and logistics industry. KAD Civils provide important services in high-risk areas across the country, maintaining the safety of both workers and pedestrians alike. Experienced and knowledgeable in their field, KAD Civils have provided line marking services for a variety of different industries and purposes. Most notably, the high visibility line markings seen at airports, on our roads and in warehouses, are part of the work that KAD Civils specialise in. In the event of an emergency, KAD Civils provide a 24/7 Specialist Rapid Response Unit, that can initialise the immediate mobilisation of emergency highway and airfield repairs and treatments.
Struggling to gain new traffic, KAD Civils realised that their website was impacting the amount of custom they were receiving. Undiscoverable online, their website was hindering them from gaining valuable custom; leading to low visitor traffic and poor performance. Unsurprisingly, 97% of people use an online search engine to seek out the businesses and services they require. When a business site becomes lost online, the risk of missing out on valuable and high levels of custom increases. After identifying that this problem was impacting KAD Civils' business, we stepped in and curated a solution that would tackle this issue and ensure that their website would function well, be easily discoverable, and perform exceedingly.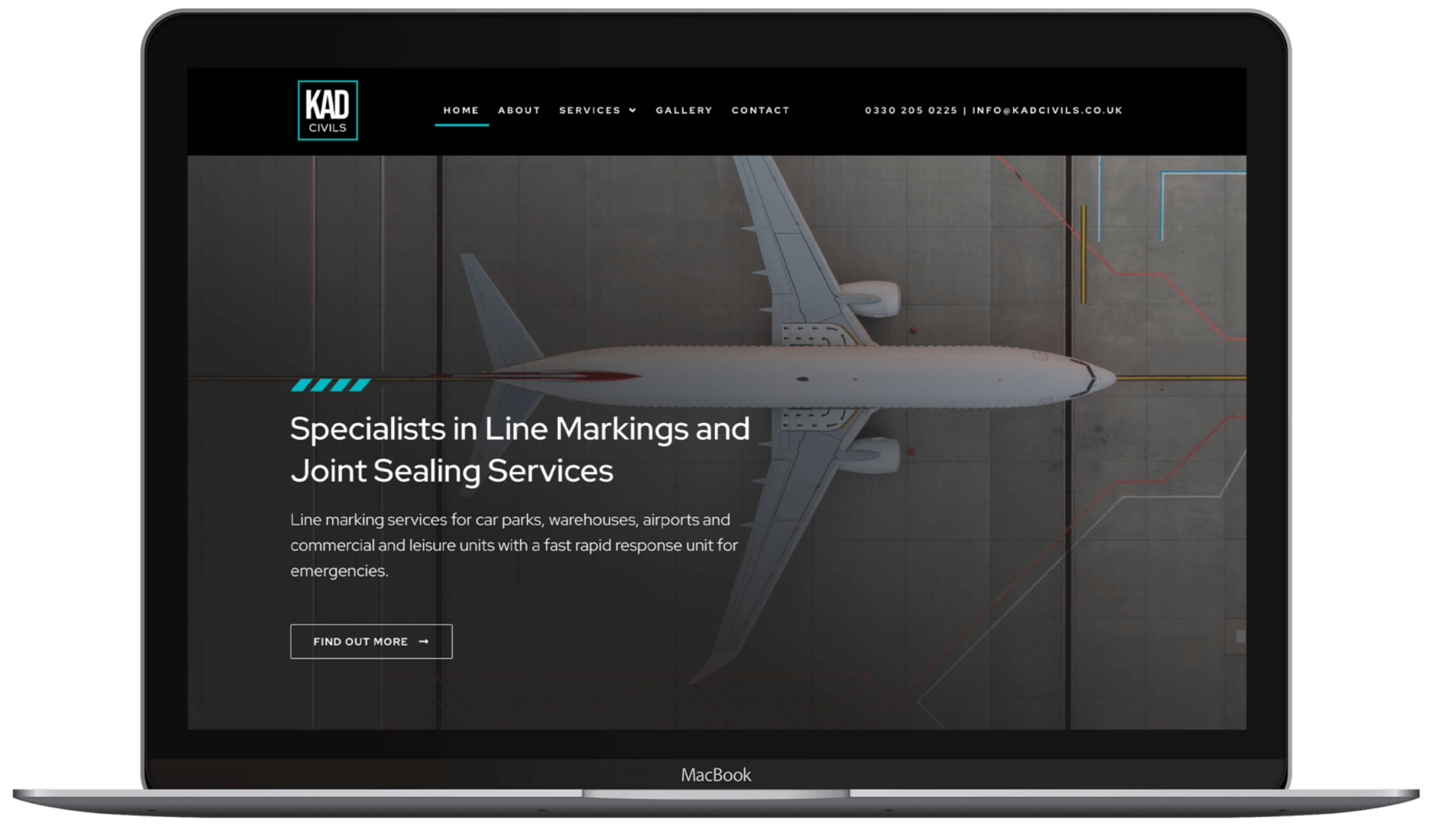 To begin working on the site, we gained an insight into how the current SEO was performing, and what we could do to improve it. We decided that a full rebrand incorporated into a full, brand new website design was necessary for KAD Civils, to almost 'start fresh' and develop a site that was modern and keeping up with their competitors. Ongoing SEO was developed throughout the site, in order to solve the main issue KAD Civils were experiencing; little to no traffic. Moving the site from the popular but SEO poor website creation platform Wix to elevating their online presence with SEO rich platform WordPress, ensured that SEO was being intertwined throughout the new site from the foundations up. Alongside SEO-friendly content accompanying attractive yet functional design, we had created a website from scratch that would clear KAD Civils of all of the previous problems they were encountering with their website.