As a business owner, finding new ways to generate business in whatever form it may be, sales, form enquiries, quote requests or telephone calls, can be frustrating. This rings true even more so if you are in a highly competitive industry such as finance, insurance or E-commerce. The obvious option is online marketing, but with so many different methods to choose from it can be hard deciding which advertising option online best suits your business and website. One of the main methods is PPC (Pay per click) marketing. The main reasons to use PPC are as follows:
You can reach your target audience fast anywhere in the UK or world.
You intercept customers when they are actively seeking to perform an action.
You have full control over budgets, spend and advert schedules.
You can instantly compete against your competitors.
PPC marketing allows you to reach more people fast with almost instant results. It can also allow you to only target people searching for what you provide or offer. PPC allows you to take your brand to the top of the search results on Google within a matter of days. Putting you in front of potential new customers at the time they are actively looking to perform an action such as purchase or quote request. The advantage of PPC is that you have total control over when your adverts appear, what areas, and how much you want to spend each day, you have total control at all times.
Having a smart PPC campaign can boost sales and enquiries instantly after targeted campaigns have been created. With PPC advertising you get to choose what keywords you want your adverts to appear for when they are typed into the search box. For example if you sell flowers in Bristol then you would set your advert to appear at the top of the search results after someone searches for "Bristol flower shop". You only pay if they click on your advert and visit your website. There are tons of data and stats to help you manage your account and see where it's performing or not. Luckily though the team here at LogicBarn have experts in PPC, some with over 15 years experience. So we can set up these campaigns for you and incorporate conversion tracking so you know exactly what keywords people typed into search boxes resulted in a sale or action on your website. An example of some typical PPC adverts are below: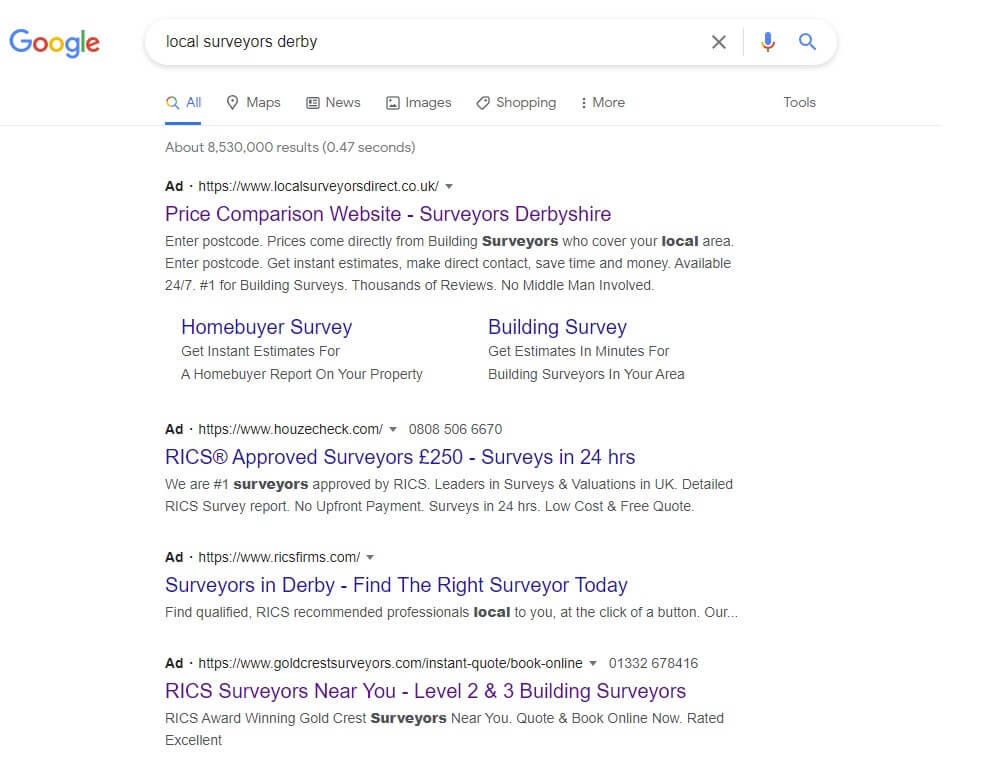 PPC is perfect for local businesses such as restaurants, health clubs and service providers like plumbers, dentists etc as you can choose to only advertise to people within a set radius from your business location. Equally if you are a national company then PPC works just as well also as it allow you to target your nationwide audience easily. There's not many businesses that would not benefit from a well structured PPC campaign to be honest. The obvious benefit being you only pay for people who have visited your website and using keywords or phrases you have chosen.
PPC allows you to reach your customers at the right time using keywords with a high purchase intent, so at the point people are actively seeking out a product or service your business can be there. You can also greatly increase your brand awareness using a targeted PPC campaign.
There's a multitude of options available to you and this is why it could be more beneficial to hire a PPC expert or management agency such as ourselves, so we can take care of everything from account creation to ongoing optimisation. This includes tasks such as A/B adcopy testing, negative keyword research, budget and bid changes and tracking set up.
If you think PPC advertising could be right for your business, complete the short form here, email us today at hello@logicbarn.com or call us on 0303 223 0110. Our dedicated PPC team are on hand to discuss your individual requirements.